If I remember correctly,
it was for the Christmas before last
that my sweet husband gave me a gift
that has literally kept on giving...right up until this moment.
I had no idea how much the book with the cutesy cover
showing a woman's hands holding
a bird's nest with two sky-blue eggs nestled in it
would completely transform my way of thinking...
and my entire life.
I could hardly put the book down.
I was intrigued.
Ann Voskamp's
writing method is so unique.
So captivating.
I loved reading her story,
and, at first, I guess that is what drew me in.
That...and the fact that I cherished the gift of the book
because it was Kevin who gave it to me.
I wanted to read it and see it through.
Then, I started seeing the pattern...
grasping the concept....
of what it means to have a grateful heart....
what it means to view life through the lens of eucharisteo...
a word I had never heard of before, but noticed it kept popping up in the book.
Reading on, I learned it is a Greek word that, simply put, means "to be thankful".
To reveal the joys of living that way....is the object of Ann's book.
I'll admit, it changed me...from the moment I began reading it.
It had an effect on me.
Helped me to look for the joy...and take closer notice of my countless blessings.
But, I didn't actually begin putting its advice into practice
in the literal way of beginning to
write down my list of 1,000 gifts
...
until today
.
I've thought of starting it many times,
but you know how it is....
other things took precedence,
and I just never began making an actual list.
I decided to start....my list, that is...
right here
....
and share it with you.
May I encourage you to start one of your own?
We could walk this journey of gratitude together....
if you'd like?
Lord willing, on the Mondays I am able, I will do my best to link-up with Ann here,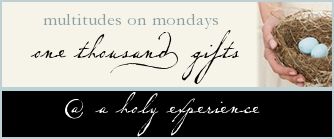 sharing my list, in the process.
Just grab a notebook...or a journal...or whatever's handy,
find a pen,
and let's start....
writing down 1,000 gifts that we are thankful for.
I have a feeling, we, like Ann, will fly by the number 1,000, pretty quickly...
and keep on counting.
Because we will never be able to exhaust the vastness of God's mercy...
His love...
His unfailing faithfulness....
the continual outpouring of His gifts.
So, I begin my list with...
#1.
A filled soul
.
How grateful I am that I am a Christian who has been
redeemed by the precious blood of Jesus Christ!
He fills me...to overflowing...with His indwelling Spirit
Who makes everything in this life bearable.
His gift of salvation is the most precious of all gifts...
and I praise Him from the bottom of my heart.
Branching off from my #1 answer, may I ask you a question?
What fills your soul?
What is it that stirs you to the point of ceaseless praise?
What can saturate you to the point of feeling like Heaven has come down
and paid you a special, personalized visit?
What inspires you....most deeply....to pursue His holiness?
This is the view from my sister-in-law, Lori's, front door.
I love going to her house.
It is filled with welcome...and warmth...and unconditional love.
Everywhere you look...both inside and out....you are met with a sense of belonging...
and home.
Inside, you feel like you have just stepped into a page
from the most current issue of
Country Sampler
or
A Primitive Place
magazine.
Seriously.
I tell her often and repeatedly that she should submit her home to be considered.
She has a real talent and knack for decorating,
and she loves primitives as much as I do.
Outside, you feel like you have just stepped into the presence of Almighty God.
The mountains surround on all sides.
Mountains never fail to fill up my soul.
They evoke worship.
They compel praise...to the only One Who could create such majesty...
such beauty...
such steadfast strength and fortitude.
I could sit on Lori and Steve's couch and gaze at the mountains across the road for hours on end....literally.
That is what I was doing when I took these pictures.
It was Mother's Day, and we were cherishing the moments.
Steve had grilled out for us...everything was delicious, as usual.
Lori cooks as good as Mom Smith.
She makes the best broccoli casserole you could ever imagine sinking your teeth into.
(Recipe at end.)
Others, including me, have tried it....to the tee, might I add....
and it never tastes just like Lori's.
It's no wonder I gain weight every time we get together. :~)
We have the best of times...I couldn't ask for a sweeter family.
Which brings me to #2....
The one God has bestowed...and woven...into my life.
Those who were born into it, added to it through marriage,
and the one born because of that marriage.
They are beyond dear, and I love every one of them with all my heart.
Each one is included in my list of most precious gifts.
You never leave Mom Smith's or Lori's table hungry.
If you do, it's no one's fault...but your own. :~)
I sat there...staring out the door....belly over-stuffed, but heart-hungry.
My soul...deep inside was empty...
longing for my Creator...
craving to be filled....
as only He can.
I felt compelled to go outside and stand on the front porch.
This is what I saw.
Eyes are the windows to the soul.
How grateful I am that I can see!
#3.
Eyes to see...every gift from above....both physical and spiritual.
I took in the scene...in front of me...and then it happened.
God met me
...right there.
My soul lifted up to Him....and
He filled it
....to overflowing....with His love.
I sensed His presence....felt hugged by everlasting arms.
I know from whence...and
Whom
....my help comes.
What a treasure...to possess that knowledge!
While so many still seek...not knowing where to turn.
David knew.
He often lifted his eyes....his soul...toward the hills of Jerusalem.
#4.
The written Word of God...the stories, accounts of holy people,
who were human, made mistakes, overcame failure,
and kept their eyes on the Source of forgiveness, mercy, and grace.
#5.
Mountains.
There is just something about the mountains.
I can't explain it.
I never could.
It is an undeniable drawing...a compelling force...that just captivates me
and pulls worship from the core of my being.
How anyone can find themselves in their midst
and not feel an overwhelming sense of the power and glory of God...
is beyond me.
Jesus often resorted to a mountain to pray.
#6.
A written biography of the human life of our Lord,
preserved for you and I...to pick up and read...and learn from....anytime we want.
"And it came to pass about eight days after these sayings,
he took Peter and John and James, and went up into a mountain to pray."
Luke 9:28
"And it came to pass in those days,
that he went out into a mountain to pray,
and continued all night in prayer to God."
Luke 6:12
"And when he had sent them away, he departed into a mountain to pray."
Mark 6:46
"And when he had sent the multitudes away,
he went up into a mountain apart to pray:
and when the evening was come, he was there alone."
Matthew 14:23
God met Moses on a mountain to endow him with the Ten Commandments.
His presence was there...
in the mount
...time after time.
Mom Smith and I took a drive to our two favorite stores a few days later.
On our way, this is some of the breathtaking scenes we saw.
Can you imagine living life....every day....
right here
?
At the foot?
Of their majesty?
I can only imagine the ensuing enhancement to one's prayer life.
#7.
Prayer...the privilege to communicate with Almighty God.
Kneeling there.
In the open.
Listening to His voice.
Being renewed....
filled to the brim
....
Day after day.
(I wonder if the people who live in this house realize the worth?
This feature alone, would be the tipping selling point for me!)
The other day, Zach walked in after having his personal time alone with God in his room.
#8.
A son of our very own...after years of infertility struggles.
God sent us this indescribable gift. Praise His name!
"Mama, I feel so much better....
knowing I have had my devotions."
#9.
His love for Jesus and insatiable desire to be close to Him.
"I know how you feel, Zach."
What followed was a long conversation about how necessary it is
to keep our hearts filled by God and our relationship with Him current.
It is vital.
Imperative....
if we ever hope to live a successful, Christian life.
"Trying to run the Christian race without regularly
reading the Bible and praying and allowing God to fill our souls,
is like trying to run a marathon without eating food and drinking water, Zach.
We just can't do this in our own strength.
It is like a runner believing they can run and successfully finish a race
without staying properly and necessarily hydrated.
A runner will faint and burn out that way.
They will never make it to the finish line.
To refuse and neglect our time with God is like being offered water
in the midst of running a race and refusing to stop and take a drink."
Jesus knew it.
He went out every morning, before daybreak, and spent time with His Father.
He was the Son of God, living in a human body,
but
He felt the need
.
If He needed to be filled,
how much more do we?
He recognized the absurdity of trying to walk this path without daily renewal.
He set the example.
He taught His disciples.
"And he spake a parable unto them
to this end
,
that men ought always to pray, and not to faint..."
Luke 18:1
The original, Greek word for faint here is ἐκκακέω.
It literally means...
"to be utterly spiritless, to be wearied out, exhausted,
to be weak, to fail in heart."
Sound familiar?
How would you rate your spiritual hydration....
on a scale of 0 to 10,
where 0 is complete dehydration
and 10 is completely filled?
Life is full of draining elements.
In fact, most of what happens around us leans more towards depleting
our spiritual energy, than replenishing it.
Bad news is everywhere we look.
Scandals.
Storms.
Disasters.
Heinous crimes.
Sickness.
Disease.
Compromise.
Abuse.
Neglect.
A steady diet of too much of this world will leave us utterly spiritless.
Spiritually drained.
We all need a daily re-charge.
Without it, we will come up empty,
and an empty soul penetrates every part of our being...
leaving us discontent....and
sad
.
I know it takes effort.
Persistence.
Dedication.
Diligence.
We all become weary of doing the right thing all the time
...
at least, I do.
Sometimes, the enemy manages to convince us that it isn't worth the sacrifice.
The Apostle Paul encouraged us by saying,
"And let us not be weary in well doing: for in due season we shall reap, if we faint not."
Galatians 6:9
#10.
Encouragement to keep pressing on...even when we don't feel like it.
Jesus said that, in order not to faint, we need to pray.
We need to be filled....with
Him
....His presence.
Then we can face the drain around us...and not faint.
Then we will have the strength to continue the process...of well doing.
So, what fills your soul?
Where do you feel closest to God's presence?
Maybe it is time to just steal away...to your favorite filling station...
and let Him saturate you with His grace.
Turn your cup Heavenward...
towards the hills
...
towards
a hill
...called Calvary...
from whence comes your help.
He waits for you.
He beckons you to come...
empty your soul of the burdens of life...
then
be filled
....and warmed...with the sunshine of His love.
*************************************************************
Lori's Broccoli Casserole
1 Bag Chopped Broccoli, cooked according to package directions
1 Small Onion
1 Egg, beaten
1 Cup Mayonnaise
1 Can Cream of Mushroom Soup
Sprinkle of pepper
Mix all ingredients with cooked broccoli.
Pour into a baking dish.
Cover with Shredded Cheddar Cheese.
Top with Pepperidge Farms Stuffing Mix.
Place pats of butter randomly over top.
Bake at 350 degrees for 35-40 minutes,
(until stuffing mix is browned)
Enjoy!
P.S.
#11.
The good things with which He continually fills our mouths.
"Who satisfieth thy mouth with good
things; so that
thy youth is renewed like the eagle's."
Psalm 103:5