"God hath not cast away his people which he foreknew.
Wot ye not what the scripture saith of Elias?
how he maketh intercession to God against Israel, saying,
Lord, they have killed thy prophets, and digged down thine altars; and I am left alone, and they seek my life. But what saith the answer of God unto him?
I have reserved to myself seven thousand men,
who have not bowed the knee to the image of Baal.
Even so then at this present time also there is a remnant according to the election of grace."
Romans 11:2-5
(KJV)


Last night, Kevin forwarded an email article to me that disturbed me deeply.
Moved me to tears.
It was such a blatant moral compass...
made me realize, once again,
with crystal clarity
where we really are...
spiritually, as a nation.
It filled me with a deep sense of burden.
For our nation.
For our world.
How can they do this??
How can they openly mock and scorn and ridicule...
and blaspheme...
the One Who hung on an old, rugged cross
and spilled every last drop of the blood in His body...
for their salvation?
To be honest, I was furious....after I read it.
My righteous indignation was full to the brim...
and overflowing.
I began to pray...
pleading with God to
do something
.
Asking Him why He allows people to get by with such.
After reading the article, it felt like the whole world is turning against God.
The media is notorious for making a person feel that way.
They take the sentiments of a mere handful and paint a deceitfully inaccurate picture
that portrays the mere handful as the mass majority.
Their far-reaching impact is most effective
in twisting the truth,
spinning the facts,
distorting reality,
and in the process planting seeds of hopelessness
in the hearts of those who desire to stand for the right.
Turns out, I'm not the only one who is so highly upset.
There are others.
Who feel as fired up...
and fed up as I do.
Today, we got an email from Penny Nance,
the CEO of Concerned Women for America.
Ever heard of them?
Here's her article, if you care to take the time to read it:
I turned to Kevin and said,
"I am so glad and thankful she is out there doing what she is doing.
But, it feels like fighting a raging forest fire with a single garden hose."
It just feels like evil is winning.
I am not a pessimist.
Never have been.
But, the reality of the evil with which we are at war
is near-overwhelming to me, these days.
As I pondered how it seems we are outnumbered,
God brought today's passage of Scripture to my mind.
There was a time when the great Old Testament prophet, Elijah,
felt the same way.
He was surrounded by evil...
on every side.
Heathen, idol worship was prevalent.
The land had in a great degree forgotten
and turned against the one true God.
Elijah felt that he was fighting a losing, impossible-to-win battle.
Kind of like me feeling that we are fighting a raging forest fire
with a single garden hose.
Elijah felt troubled.
Burdened.
Outnumbered.
Abandoned.
Hopelessly alone.
He hid himself in a cave.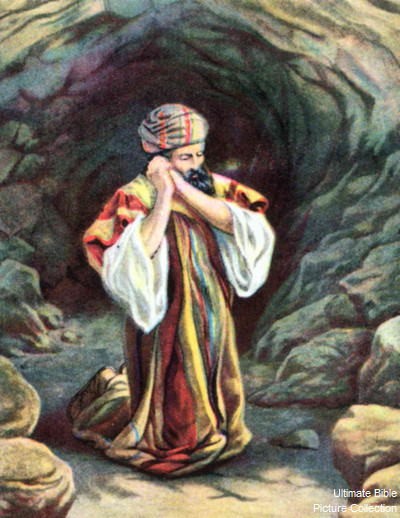 Sound familiar?
Ever feel like doing that?
I'll admit, there are moments
I become so sickened by evil
that I am tempted to look for the closest cave I can find,
run into it, and hide.
Wouldn't it be so much easier?
To just recede...
withdraw...
get away from it all?
I never fault Elijah when I read this story in I Kings 19.
I relate to his frustration.
We all enter our caves of hopelessness from time to time.
God loves us too much to leave us there for too long.
He called to Elijah from outside the cave.
He opened his eyes.
He made him to understand that there were 7,000 others....just like him....
who refused to bow their knees to Baal
or to abandon their faith.
There were 7,000 others who were intent and adamant
in their stand for the righteousness of God.
Elijah was not alone.
After I read Penny's email,
other emails came trickling in from others
who are equally righteously-indignant.
Reminding me that we aren't alone in this fight, either.
Several are out there...keeping the torch aflame....
on the public square....
in the public arena.
In the face of anti-God schemes and systems.
Standing firm, regardless.
Tony Perkins & Pierre Bynum of the Family Research Council
and
Jim Daly of Focus on the Family
and
Tim Wildmon of the American Family Association
and
Mat Staver of Liberty Counsel
and
Michael Farris of Home School Legal Defense Association
and
David Barton, Rick Green, Tim Barton, Rene Diaz, & Matt Krause of Wall Builders
and
Mike Huckabee
and
Kirk Cameron
are just a few that readily come to mind.
There are many others.
As I read their emails, I feel a sense of gratitude to God.
I am so thankful they are out there...
on the front lines...
fighting against the evil.
I pray for them as they come to mind.
That God will keep them strong,
protect them and their families,
keep them firm in what they are doing,
keep their lives above reproach,
keep them away from temptation's snares,
and not allow them to fall into scandalous situations.

They are the ones we hear about.

What about the many whose names we will never hear?
Thousands, maybe millions, in the background...
toiling diligently...
keeping the faith...
preserving our Christian heritage.
Fighting their own battles.
Winning their own victories...
in the name of the cross of Christ.
Those who care deeply, with all their heart,
who are profoundly committed to being all God requires them to be.
Pastors, evangelists, Sunday School teachers,
deacons, speakers, and everyday Christian lay-people who
stand determined at their individual posts of duty every single day.
How I praise God for the faithful soldiers of the cross
who are completely unashamed, absolutely undeterred,
and whole-heartedly bent on defending the Gospel of Jesus Christ.
Regardless of the cost...to them, personally.
The Apostle Paul said in Philippians 1:17,
"But the other of love, knowing that I am set for the defence of the gospel."
How
set
are we?
For the defense of the Gospel?
On defending the faith in which we so strongly believe?
Will we step up to the plate?
Be a true soldier and let our light shine?
No matter the cost?

Maybe our voice will never be heard by the masses.
But, someone will hear.
Maybe our face will never be in the public arena.
But, someone is watching.
Maybe we can't do everything.
But, we can do something.

Jude told us,
"...it was needful for me to write unto you,
and exhort you that ye should earnestly contend for the faith
which was once delivered unto the saints."

The faith...
the belief system established through great sacrifice
by Jesus Christ on Mt. Calvary.
It is worth our defense.
It absolutely merits our loyalty.


"Even so then at this present time also there is a remnant according to the election of grace."
God has a remnant.
Each with his or her own garden hose.
It is a mighty big fire.
Raging.
Seemingly out of control.
My little hose, alone, by itself,
won't make much of a difference...
in putting out the fire.
But when you add yours to mine,
and your brother adds his to yours,
and his sister adds hers to his....
on down the line...
you get the picture...
a mighty big impact is made
.
Don't lose hope, my friend.
I know times are hard.
Evil is raging...like an out of control fire.
The enemy would love to convince us that our individual efforts
in being pro-active are insignificant, pointless, and unsuccessful,
and that since we can't make a huge impact,
we might as well not do anything at all.
Don't listen to his lies.
What if we all laid our armor down?
What if we looked around,
saw only hopelessness,
and decided there was no use to keep fighting the good fight of faith?
We all have a responsibility.
To be the individual person God needs us to be...
at this crucial time of unbelief.
There is no way of measuring the cost or repercussions
of one child of God dropping the ball.
God needs us all to be strong.
Never before has it been more important.
Fulfilling our God-given duty,
requires
us to be pro-active...
no matter how small our contribution.
Don't put away your garden hose
just because the trickle is small and seemingly useless in putting out the fire.
Don't muzzle your testimony
just because other voices seem to be drowning you out.
Don't stop standing for righteousness
just because the forces of evil appear to be winning.
Don't throw away your witness
just because you fear persecution.
Through the ages,
the Church has grown and prospered
during eras of persecution and distress.
The truth is marching on.
You are not alone.
There are many others...
standing faithful guard,
publicly and privately,
not willing to compromise.
God still has a remnant...
at this present time...
even now
.
You are a part of the remnant...
so am I.
Take courage.
Be strong.
Don't waver.
What would Jesus do?
Let's follow His lead,
pick up our garden hose,
and keep fighting the fire.