"As the hart panteth after the water brooks, so panteth my soul after thee, O God."
Psalm 42:1
(KJV)


The third and last account of the two sisters,
Martha and Mary, found in the New Testament
is found in the 12th chapter of St. John.

To me, it is the most touching incident of all three.
It moves me deep inside each time I read it.

It happened six days before the Passover in Jerusalem.
This Passover was to be like no other since the rite of the first Passover
took place on the night the death angel came through Egypt
and smote every Egyptian firstborn.

Generations before, during that first Passover,
God had told His chosen people, the Israelites,
that if they would place the blood of a lamb upon the
outside doorposts of each of their homes,
the angel would "pass over" them,
and their firstborn sons and daughters would be safe.

It couldn't be just any lamb.
The lamb had to be one that had no blemish,
it had to be a male,
and it had to be within its first year of life.

A young, healthy, perfect, male lamb.

For God,
only the best was good enough.

A second-rate lamb would never do.

Every year after that,
God's people faithfully observed the Passover.

The rite they so faithfully observed all those many years,
generation after generation,
was a vivid type and shadow of the Lamb
that would one day come into the world
to take away our sins.

Now, the time had come.
It was six days away...
from the day the dear Lamb of God,
God's only begotten Son,
Who was perfection personified,
would lay down His life...
give it up...
like a lamb being led to the slaughter...
and He would be the ultimate sacrificial Lamb.

His sacrifice would forever satisfy God's demand for atonement.
The blood of yearly Passover lambs would no longer be necessary.
For the precious blood of Jesus would be shed...
would flow...
from His wounded, tortured, mutilated body...
down the sides of the cross...
upon which He would hang...
for six, long, agonizing hours...
and spill onto the ground beneath Him.
Until the moment every sin of every man, woman, boy, and girl,
was rolled onto His shoulders,
and He, the guiltless, spotless Lamb
would bear all of the guilt...
every bit of blame...
and He could at last utter the profound words...
"It is finished".

Passover complete.
Atonement paid.
Sin forgiven.
God's wrath appeased.
Once and for all.

For you...
and for me.

On this day,
six days before our Passover Lamb
would be sacrificed,
He paid a last visit to the home of His dear earthly friends.
How He loved them!
How many happy hours had they spent there...
in that comfortable home,
gathered around a glowing fire on winter nights,
or around the family table on warm afternoons,
enjoying conversation,
asking Him the questions of life,
seeking His wisdom?

No doubt the bond between Jesus and the two sisters had deepened...
strengthened...
even more...
after they had witnessed the near-unbelievable miracle of Him
calling their dead brother, Lazarus, out of the tomb.
Life was different now.
More valued.
Its fragility better recognized...
and understood.
They had felt the pain of burying their brother...
feeling all hope was lost...
only to have all hope completely restored...
by the Giver of Life.

Now, He was back...
for a visit.

Martha was rushing full-speed ahead, no doubt,
feeling an even greater desire...
to please Him.

Verse 2 says,
"There they made Him a supper; and Martha served:
but Lazarus was one of them that sat at the table with Him."

Of course, Martha served.
Such was her nature.
Such was a part of her make-up...
that could not be denied.
This is how she proved the love that was in her heart...
for Him.
This is how she expressed her worship.

Can you imagine the scene?
Lazarus, once so pale, weak, gaunt...
dead....
sitting at the table with our Lord....
with the others....
alive...
vibrant...
healthy...
strong.
His cheeks are defined with color now...
health radiates from every part of his being.
To look at him,
one sees not the slightest sign...
of the four days he spent in the cold, dark clutches of death...
in the lonely tomb.
He is laughing,
talking,
conversing with the disciples...
just like old times.
Jesus had made him new.
His passion for life was completely restored.
His appreciation for breath had reached a new dimension.

He leans closer to Jesus...
hanging on His every word.

How thankful he is for this Friend!
The One Who had entered their lives,
to leave them forever changed.
He realizes...
full-force...
that without Jesus...
he would still be dead...
cold...in the tomb.

Lazarus and the other men around the table have hearty appetites.
The meal Martha has prepared hits the spot.
They relish every bite...
enjoy every moment...
of watching Martha's face brighten
with every compliment they pay her.

Lazarus sees her serving.
She is a good sister....
the best a man could ask for.
What would he do without her?
Always putting his and Mary's needs ahead of her own,
always doing her utmost to see that they are taken care of...
always paying attention to the details.
Always giving....
mostly of herself.
She is the glue...
that holds this family together...
along with the deep love in each of their hearts...
for one another.

He listens intently to Jesus.

Suddenly, something catches his eye....
near the floor...
at Jesus' feet.

He looks closer.
It is Mary!
His baby sister!
Sweet-natured, humble Mary.
She has quietly slipped into the room....
where the men are talking and eating around the well-laden table.

She has everyone's attention now.
The men stop talking.
All eyes are upon her.
She dares not look up!
The attentive gazes make her uncomfortable.
She'd rather do this in private...
where there were no curious eyes...
watching her every move.
But, how can she?
He is thronged by so many...
everywhere He goes...
every waking moment.

It's now or never...
scolding or not...
she will take this chance.
This is her only chance.
She senses His time is drawing near.
How many more visits would He be able to pay...
to their home?

Verse 3,
"Then took Mary a pound of ointment of spikenard, very costly,
and anointed the feet of Jesus, and wiped His feet with her hair:
and the house was filled with the odour of the ointment."
Do you see her...
as she gently pulls back the seal...
of the container of ointment?
Can you sense her heart....
as softly, slowly...
she pours the spikenard...
over His feet...
so tired, weary from the journey?
Until every last drop of the pound...
is poured out....
upon Him?
Can you feel her love...
as her long hair falls around the sides of her face...
until it reaches the floor...
in front of Him?
Can you experience the depths of her worship...
as she takes the strands in her hand...
and wipes them around His feet....
until they absorb the ointment...
and His feet are dry?
Regarding not the others
fearless of their opinions,
she is pouring out more than ointment.
The contents of her heart are there...
spilling over...
in humility....
at His feet.
I imagine you could have heard a pin drop...
as all eyes were fixed upon her...
as the odor permeated every inch of the room...
until every person present was fully aware...
of her selfless act...
her tender care...
of the feet of God.
Did she know?
Had she any idea?
Had Jesus ever shared the details....
of what would soon happen?
Did any of them really comprehend?
That in six days
the same feet
Mary now nurtured and tenderly dried with her hair
would walk the Via Dolorosa...
battered, bruised, blood-soaked...
from the intense scourging He would endure...
at the cruel hands of Pilate's soldiers
outside Pilate's Hall?
That they would be forced to walk...
the distance...
all the way to Calvary's hill...
to be nailed....
fastened fast...
to an old, rugged cross?
That each breath He tried to breathe...
during the six hours He would hang there...
would send a fresh jab of searing pain through them
as He struggled against the nails...
to force His body upward...
just to inhale..
the slightest breath
?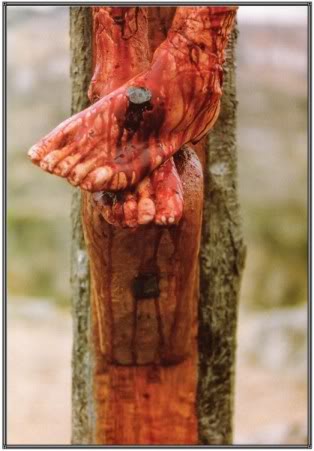 Is this why she tended so carefully?
Had she
any
idea...
of the magnitude of what He would go through?
As Mary worships,
Martha is speechless.
There are no cutting words of rebuke...
no chastening retort....
for her sister.
Lazarus remains quiet....
keeping thoughts, opinions to himself.
Everyone in the room is perfectly still....
silent...
caught up in the moment...
breathing in the pleasing scent...
of the ointment....
until an angry male voice...
interrupts the sweetness of Mary's reverie...
steals the pleasantness of the atmosphere...
breaks
the sacred moment
...
in the harshest, most irreverent of ways.
Verses 4-6,
"Then saith one of His disciples, Judas Iscariot, Simon's son,
which should betray Him,
Why was not this ointment sold for three hundred pence, and given to the poor?
This he said, not that he cared for the poor;
but because he was a thief, and had the bag, and bare what was put therein."
Shattered....her hopes.
Broken....the aura of the moment.
Fearful...she waited....
to hear Jesus' response...
to Judas' outburst.
I imagine she inches herself even closer...
to the floor...
her hands never turning loose...
never letting go...
of His feet.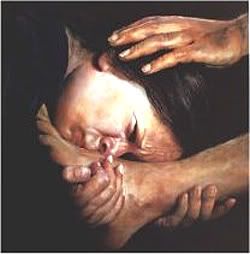 She listens...intently...
as He begins to speak.
Verse 7,
"Then said Jesus, Let her alone:
against the day of My burying hath she kept this.
For the poor always ye have with you;
but Me ye have not always."
"Leave her alone, Judas.
The magnitude of what just happened is totally lost to you.
You've completely missed the point.
What she did with the ointment was far more important
than any other function it could have ever served.
She has kept this...
saved it...
for this very moment.
For this monumental purpose...
for today...
six days before I am offered...
as the supreme sacrifice for the sins of all mankind.
There will be poor people among you until the end of time, Judas.
Mary will have plenty of opportunity...
to reach them...
to show them.love.
Her chance to do this...
for Me....
will never happen again."
She sighs...in relief.
Hope fills her heart!
He isn't angry with her...
for what she has done.
He isn't embarrassed...
by her worship.
He understands...
the deepest recesses,
yearnings..
of her broken heart.
The Master is pleased...
this is all that matters to her.
He recognized the love...
the sacrifice...
the worship...
by which her act was driven.
He saw her heart....
and He accepted her gift.
Judas' rebuke didn't matter.
His unkind remark meant nothing.
Neither did the stares...
of everyone present in the room.
None of it mattered.
She had followed her heart....
it had led her once again...
to her favorite place....
at His feet
.
How she longed to remain there...
forever...
offering praise...
to the One Who had made her life complete!
How it pained her to know that soon He would
grace their home...
with His presence...
no more!
How they would miss Him!
How many times did she look back on those moments...
spent at His feet...
and feel a sense of peace..
and satisfaction...
for following her heart?
I have gazed over the wide expanse of the ocean...
seated upon a tall, strong rock....
awestruck and speechless...
the worship in my heart never becoming words.
I have stood at the altar...
before God, a minister, family, and friends...
and spoken solemn, lifetime vows...
to the man I love more than life....
standing in front of me...
gazing into my eyes...
holding my hands...
in his.
I have looked into the sweet, round face...
of our perfectly-formed newborn son...
who only moments before lived peacefully in my womb....
where he had grown and thrived for the past nine months....
the miracle overwhelming me...
to the point of near-breathlessness.


I have sat at the foot of a mountain...
surrounded by trees...
and gazed high into the heavens above me...
feeling a sense of His peace beyond understanding.
I have stood shattered, completely broken...
heart-torn and anguished...
at the bedsides of my dying father and mother...
tears flowing like a river...
from a place so deep inside of me...
it was beyond the reach of human shadow.
So many settings...
need I take time to mention more?
Each moment memorable.
All in different locations....
unique situations...
surrounded by a full gamut of emotional states...
yet, everyone of them spent...
at the exact same place
.
The same place Mary found herself...
at least three times that we know of...
more than likely, many, many more.
It is the place I most long to be...
the place I seek time after time...
when I am full of gratitude,
when my heart is broken,
when life is good,
when times are hard,
it is always the same.
It is the constant I crave.
Whether I am caught up in worship near the ocean's roar,
seated, struck with awe, at the foot of a mountain,
standing before an altar with the one I love most,
looking into the peaceful, sleeping face of our child,
dreading the parting breath of dearly cherished loved ones..
whatever my position...
my heart is always there....
in the same place.
I find what I need...
that for which my soul most deeply longs....
the same way Mary found what she needed....
heart bent low....at the feet of Jesus
.
This song by Casting Crowns pretty much sums it up
and says it all.
I hope you take time to watch....
but mostly listen.
http://www.youtube.com/watch?v=yT6lFcM-Fv8