"Many waters cannot quench love, neither can the floods drown it...." Song of Solomon 8:7 (KJV)
I sat on the couch, sick and weak, my temperature rising.
Each time I checked, it seemed to have escalated another degree.
No one enjoys being sick, and it is never a convenient time to be pulled aside from life's activities.
This was no exception.
Kevin came and sat beside me tenderly pulling me to him....until my head rested on his shoulder.
He wrapped his arms around me and held me close.
He placed a cool cloth on my forehead and cheeks and kept saying,
"We've got to get your temperature down."
He looked worried.
I felt loved...cared for.....special.
That he would stop what he was doing to take care of my needs.
As I sat there, close to him, I realized that...there....right there...
inside his arms, in that familiar spot, is the most natural, comfortable place for me to ever be.
How many times have I run there through the years?
Each and every time I have found love and refuge and a safe place to fall.
The next day, he had to go back to work.
He told me on his way out the door,
"If you need me, I'll come right back home."
I needed that assurance.
I hated to see him go.
Just his presence...his nearness gives me peace....and stability.
And knowing he would drop whatever he needed to in order to be there for me meant more than words.
Life has all kinds of moments and seasons.
Things aren't always rosy and healthy and joyful.
There are rocky, bumpy spots in the stream of life that are hard to cope with and overcome.
True love isn't only for the good times...the happy, laughing moments, when all is right with the world.
It transcends outward circumstances, no matter how trying they be.
No matter what comes, or what goes, the floods of life cannot drown love.
Many waters...no matter how turbulent or uproarious, cannot quench it. Ever.
When the going gets tough, we pull together...toward one another....not apart.
And we do what needs to be done.
We don't count the cost....to ourselves.
We look beyond that...to the needs of the other.
When I think of marriage and true love, my thoughts turn to our dear Lord, Jesus, and His tender love for His bride, the church....you and I.
He redeemed us...with His Own blood.
What more could He do to prove, to show the sincerity and genuine quality of His love? He gave until it hurt....not regarding the sacrifice or how it made Him look. Without a second thought, He saw hopeless, helpless, hurting humanity in need of a Savior, and He told His Father He would do what needed to be done.
And He did.
He left the splendor of Heaven, went the full distance, and He came down to a sinful world.
He didn't count the cost....to Himself.
He looked beyond that....to the needs of you and me.
He doesn't just love us in the good times or when it is convenient.
He loves us always...unconditionally.
On good days and bad days.
In times of great spiritual success and in times of absolute failure.
When we soar, and when we fall completely flat.
Romans 8:37-39 lets us know with all assurance that there is nothing in this world that could ever separate us from the love of Jesus Christ. Nothing. Ever.
No matter what we do.
No matter how far we run away from Him and His righteousness.
His love remains...unchanging. Forever.
Remember the prodigal son?
Such a sweet, accurate depiction of our Lord's love for us and how it will never change!
The son left home one day with lofty dreams and high hopes.
For a while things went the way he planned, and he was living it up...to the fullest.
Then, somehow he ended up in a place he thought he'd never be.
He was financially broke, reduced to feeding pigs...a much-scorned occupation for someone of his culture.
One day, he came to himself, and he decided he would go home.
But, could he? Should he?
He must have hurt his father deeply the day he left.
After all, there had been no reason for him to leave.
He had a good life...a good home...a loving father who provided and cared for him.
He had made the unwise choice to leave all of that....for a life of degradation.
Would he be welcome if he went back now?
How would his father receive him?
After all he'd done?
Would he still love him?
Or would he turn him away?
He made up his mind that he would tell his father right off that he was no longer worthy to be his son.
But, if he could just make him a hired servant, that would be enough.
He must have rehearsed that speech over and over and over again on his long journey home.
As he trudged along the homeward road that day, his father was outside looking...watching.
How many times had he turned a hopeful eye down that long, dusty road...just wishing...longing...yearning...to catch the slightest glimpse of his long-lost son.
How he missed him!
Today, he seemed to see a traveler, walking ever so slowly, wearily, as if each step were a great effort.
As he watched...cautiously....steadily....a glimmer of hope rose in his heart!
Is that....could it possibly be....what? Is that my boy?????
Why, he hardly looked recognizable.
He looked so different from the way he looked the day he left.
He had lived a wild, fast life.
He had squandered away all of his money.
He had nothing to eat.
He must have lost a lot of weight.
He probably smelled bad, looked haggard, and walked with a dejected gait.
But, yet there was something about that forlorn figure, coming towards him, that he seemed to identify...relate to.
And his heart overflowed with a deep compassion...complete acceptance....forgiveness...and love!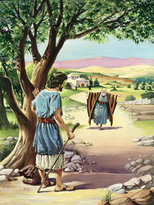 So, he dropped what he was doing, and he ran!
Oh, it is him!
It is my son!
He is home...at last!
Luke 15:20 says, "he had compassion, and ran, and fell on his neck, and kissed him."
There was no scolding.
No "I told you so".
No "I'm so ashamed of you."
No "Why did you do this?"
No "How could you, son?"
Just love.
Unconditional, unchanging, undeniable love.
In a father's heart....for his boy.
Can't you see, my friend?
God looks at you...and me, the same, exact way.
He doesn't mind our condition.
He doesn't recoil from the stench of our sin.
He is watching, looking down the road, casting a hopeful, wishful eye....just longing for you to come home.
He won't scold you or ask questions as to how you got to where you are.
It won't matter.
Your Father's heart is full of compassion.
Psalm 86:5 says this, "For thou, Lord, art good and ready to forgive; and plenteous in mercy unto all them that call upon Thee."
He's waiting....watching....hoping.
All you have to do is come home.