"I am the resurrection, and the life: he that believeth in me, though he were dead, yet shall he live..."
John 11:25 (KJV)
Things looked hopeless.
The eulogy had been said.
The body buried.
The tears shed.
All hope was gone.
Why? Where was He? Why didn't He come?
They had sent word.
He knew.
He chose to stay away.
Why, Jesus?
Ah! Someone told them He was coming!
But, why now?
Why show up today?
It was too late.
Was it?
He told them to roll the stone away...from the tomb...that surrounded the body.
When the opening was clear, He spoke directly to him. He called him by name, specifically.
Otherwise, death would have had no choice but to surrender every dead person under the sound of his voice.
He specifically spoke the name of His beloved friend,
"
Lazarus
, come forth!"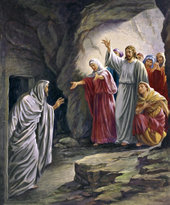 That thunderous tone!
That all-commanding voice!
Some movement inside the tomb!
Someone is coming!
It's him!
He's alive!
After four days of cold, silent death....Lazarus is walking, breathing, talking!
They marveled at the miracle, because they really couldn't see....who
He
really was.
Though it was happening right before their eyes, they failed to grasp the full truth.
He IS the resurrection.
He IS the life!
No matter how long death has the upper hand, when He speaks, it is rendered powerless...it has to go.
Later, there's another tomb.
Another body has been buried.
Many tears have been shed.
They thought He was their Deliverer...their Savior...the Messiah of Whom the prophesies were written.
All of their hopes, all of those dreams, had been crushed and nailed to an old, rugged cross.
They watched him draw His last, agonizing breath...then slump forward after saying,
"It is finished!"
They knew Joseph of Arimathea had come and placed His mutilated, blood-soaked body in a tomb.
They were aware that the soldiers had come and not only placed a stone over the opening of the tomb, but completely sealed it closed.
Tight.
It was secure.
Impossible for anyone to ever remove.
Death had won.
Hopelessness enveloped...and threatened to smother..the very life that weakly smoldered within them.
They came to visit the tomb on the third day.
But, wait! Where was the stone?
That had been sealed so tight...so carefully?
What was going on?
Luke 24:2-8 says, when they arrived at the tomb, "...they found the stone rolled away from the sepulchre."
The tomb was open!
But, how?
Not understanding, hardly able to comprehend, "They entered in, and found not the body of the Lord Jesus."
It was empty!

Two angels appeared and asked, "Why seek ye the living among the dead? He is not here, but is risen: remember how He spake unto you when He was yet in Galilee, saying, the Son of man must be delivered into the hands of sinful men, and be crucified, and the third day rise again?'
Then they remembered His words.
So, death didn't win after all? He was alive? Oh, what joy!
Everything changed for them that day.
Everything.
An eternal hope was born and breathed into existence.
Romans 6:9 (KJV) says,
"Knowing that Christ being raised from the dead dieth no more; death hath no more dominion over Him."
He died, then rose again, so that we could have life....a better life while here on earth and eternal, everlasting life in the end.
Jesus said in John 10:10 (KJV),
"I am come that they might have life, and that they might have
it
more abundantly."
Who are
they
? These blessed, fortunate ones who would be the recipients of
more abundant
life?
They
are
you
...and
me
....and
all
who will believe in Him and what happened that first Easter!
How are things with you?
Is hope gone?
Have all avenues to happiness and a better life been exhausted?
Are you tired....of always traveling, searching and ending up at a dead end?
Have you been run ragged trying to chase after life, only to find it is all an illusion?
Does it feel like death has already won?
Because of Easte
r
,
because He burst forth from a carefully-sealed tomb on that first Easter morning,
everything changed for
you
, too, my friend.
You
can have the more abundant life.
Parts that seem completely dead inside of you, dreams that have been shelved, flickering hope that has completely died out..all of it can be resurrected and brought back to life.
It matters not how far you've gone or how long you've been there.
He is
still
the resurrection...and the life.
He has a plan for
you
.
He is speaking life into
your
situation.
He's telling
you
to come forth....out of the ashes, the brokenness, the despair, the hopelessness, the death....
to a more abundant life!
Death has not won. You are still here.
Because of Easter, thanks be to God,
there is still hope
.